Michelangelo Signorile spoke with a Colorado Springs bail bondsman who says he knows of at least ten more cases of sexual misconduct on the part of Pastor Ted Haggard, and three of them involve minors: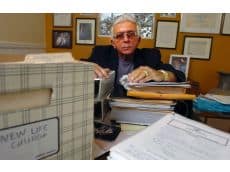 "[Bobby] Brown, now a TV personality who is one of the sidekicks on the hit A & E series Dog the Bounty Hunter, has been conducting the investigation on his own, for no money. Several times he assured me – without my asking — that he is not doing this as part of any agenda against homosexuality (and is critical of those who are antigay) and that his interest is solely in exposing criminal activity on the part of New Life Church and its leaders: the hush money and where it came from, as well any sexual assault on minors and what knowledge the church had."
Signorile also has information about yet another New Life pastor who was convicted of child molestation, a conviction apparently covered up by New Life Church.
Signorile also has posted more of his interview with New Life church volunteer Grant Haas. Haas discusses Haggard's "party formula" which consisted of crystal meth, Viagra and poppers which he would take and either connect with men online or watch porn.
Clips of the Brown and the Haas conversations, AFTER THE JUMP…
More at Signorile's site The Gist…