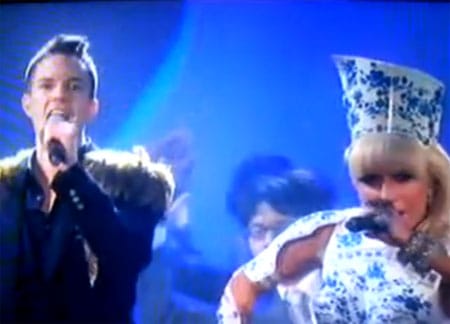 The Pet Shop Boys sang a string of their hits to close this year's Brit Awards tonight in London. They were joined very briefly by Lady GaGa, and then Brandon Flowers. 
It was rumored
that she'd join them on the track "Nothing Has Been Proved" but instead she took the Dusty Springfield part in "What Have I Done to Deserve This."

Both guest performances were a bit wobbly, imho. 

Flowers is a longtime fan of the duo, and
talked about them in an interview
in the documentary A Life in Pop, saying, "No matter how you look at America, if you just see a big hamburger, or whatever it is that you see, uh, [the Pet Shop Boys] took a bite out of it. America is still getting used to the word gay…so when you've got a band that's seen as this gay…thing…it's instantly going to be, there's going to be a wall that's gonna get put up. I think that the song for me that stood out, probably that meant something to me was "Being Boring", and I just assumed that it meant a lot to everybody. The first song that I danced to on a dancefloor in a disco was "New York City Boy". This was at a hip club in Las Vegas."