This morning I posted that Utah's legislature was down to its last of five bills making up the gay rights "Common Ground Initiative." This morning, not surprisingly, the last bill was killed.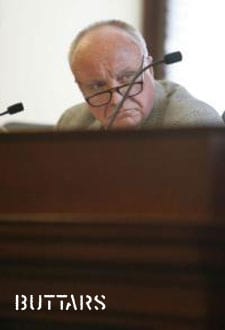 The
Salt Lake Tribune
reports
:  "A House committee rejected Rep. Jennifer Seelig's HB160,
which would have offered two, unmarried cohabiting adults — including same-sex couples — rights of inheritance and medical decision making for one another. But the initiative is not dead, said Mike Thompson, executive director of Equality Utah, the advocacy group leading the charge. Democratic lawmakers have vowed to bring back their bills, with some variations, next year. 'The majority of Utahns support these basic protections,' Thompson said, referring to recent polls. The effort also included laws that would have made it illegal to fire someone for being gay and allow same-sex couples the right to sue in the event one partner suffers a wrongful death. 'We are not giving up on these issues,' Thompson said. 'The Common Ground Initiative is not a 2009 legislative agenda.'" 
Said Buttars: "Homosexuality will always be a sexual perversion. And you say that around here now and everybody goes nuts. But I don't care…They're mean. They want to talk about being nice. They're the meanest buggers I have ever seen. It's just like the Muslims. Muslims are good people and their religion is anti-war. But it's been taken over by the radical side. What is the morals of a gay person? You can't answer that because anything goes. They're probably the greatest threat to America going down I know of."