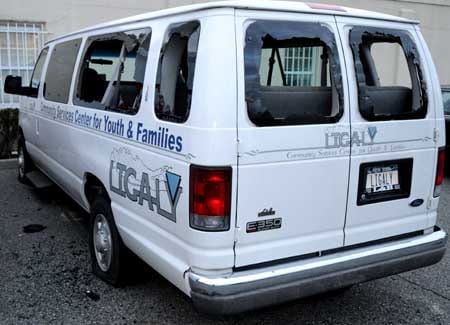 Four people have been arrested in connection with vandalism that occurred earlier this month at the Long Island Gay and Lesbian Youth Center in Bay Shore, New York. In the attack, the Center's front door and van had its windows smashed. The van's tires were also slashed. Investigators initially suspected a hate crime because nothing in the center had been stolen, although authorities now say the damage was not bias-related:
"Police arrested three men and a woman, all from Bay Shore, Monday in connection with the vandalism and charged each of them with second-degree criminal mischief. None of the four was charged with a hate crime. Police declined to say what led them to determine the crime was not bias-related. On Friday, state commissioner of human rights, Galen Kirkland, told a rally in Bay Shore: 'When somebody is attacked because of their race, religion or sexual orientation, we're all attacked.' No motive for the attack has been given. Arrested Monday were Milagro Ruiz, 21, and Gilbert R. Geigel, 20, both of 1343 Fifth Ave., Bay Shore; and Kerrond Miller-Jones, 19, and Charles Diaz, 21, both of 40 Perkal St., Bay Shore, police said. All four were charged with second-degree criminal mischief and are scheduled for arraignment Tuesday in First District Court in Central Islip."
The incident prompted a public forum last Friday attended by Kirkland as well as a statement from Governor David Paterson.
UPDATE: Two of the vandals identified as former clients of the Center…