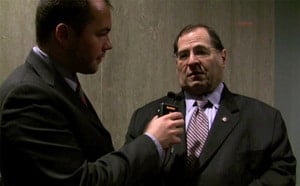 Immigration Equality reports that New York Congressman Jerrold Nadler plans to reintroduce the Uniting American Families Act on February 12th. Towleroad interviewed Nadler at Obama inauguration festivities last month.
The UAFA seeks to eliminate discrimination in the immigration laws by permitting permanent partners of United States citizens and lawful permanent residents to obtain lawful permanent resident status in the same manner as spouses of citizens and lawful permanent residents.
Immigration Equality is urging citizens to ask their Representative to be a co-sponsor of the Act.
Watch our interview with Congressman Nadler, AFTER THE JUMP…