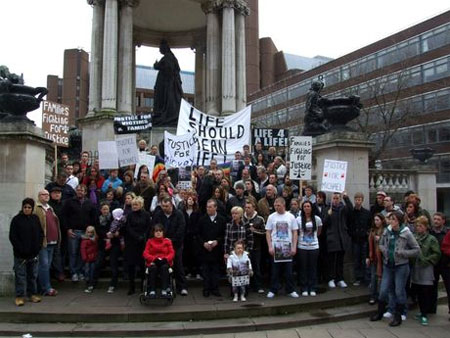 After 13 hours of deliberation late last week, a jury in Liverpool acquitted Gavin Alker for the murder of teenager Michael Causer, who was attacked by three other youths while he slept last July and remained in a coma for a week before dying in the hospital. Causer's lethal injuries were reportedly caused by blunt trauma from a hardback book: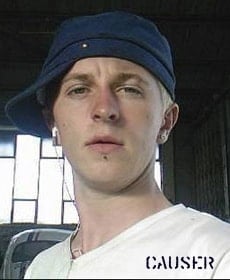 "Michael, 18, died eight days after he was attacked at a house in Biglands Drive, Huyton.Paramedics found him dying in Tarbock Road at around 11am on July 25.It was alleged Gavin Alker had punched, kicked and thrown a hardback book at Mr Causer in a homophobic attack following a drinking session at a house in Biglands Drive, Huyton.But Alker denied making homophobic comments and insisted he had only hit Mr Causer in self-defence.James O'Connor, 19, has admitted murder without homophobic intent."
The verdict shocked Liverpool's gay community and a protest was held yesterday outside the court.
Said Causer's mother at the protest: "We were so shocked at Friday's judgement."Michael was made out to be a thug in that trial. Gavin Alker claimed he acted in self defence. Michael weighed seven and a half stone. He couldn't have hurt a fly. If anyone acted in self defence that night it was Michael. I want someone to explain to me how a lad who worked in an old people's home for free to try to bring some joy into their lives, who called bingo numbers, who volunteered for the British Lung Foundation's Breathe Easy scheme can be a thug. How can we be betrayed by the justice system in such a manner? All we have now are memories. I am determined to fight this, to find a way to bring about a private prosecution. In my mind that verdict was incorrect and what Judge King said about Michael was wrong. I am determined to fight this for him. I don't care what the cost is."
Watch a clip of the protest, AFTER THE JUMP…