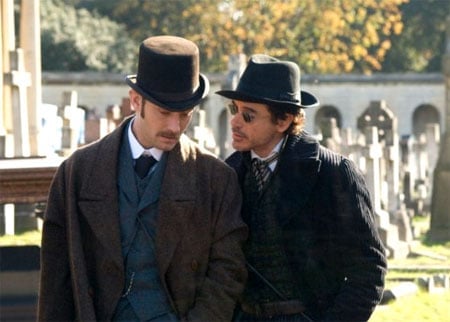 I've previously reported that Guy Ritchie's new Sherlock Holmes film would focus more on Holmes' physicality (thus the shirtless photos we've seen so far), however, it's being reported that the physicality may extend to Sherlock's partner Watson. The two reportedly sleep together in the film.
Brit tab News of the World reports:
"Super sleuth Sherlock Holmes is to be portrayed in a gay way in Guy Ritchie's new flick. The fictional him-vestigator is seen share a bed with his dear, dear, Dr Watson and also enjoying some man-to-man wrestling with his close chum. Speaking about the film, in which he plays Sherlock, Robert Downey Jr said: 'We're two men who happen to be room-mates, wrestle a lot and share a bed. It's badass.' Sir Arthur Conan Doyle's legendary character is famous for donning his deerstalker hat, puffing on a pipe and solving mysteries with his trusted sidekick. Jude Law, who plays Watson in the film, added: 'Guy wanted to make this about the relationship between Watson and Holmes. They're both mean and complicated.'"
Perhaps that's what really set Jude Law's crotch on fire.
It was recently reported that Warner Bros. demanded five weeks' worth of scenes for being "ridiculously unrealistic" but those reports have been denied by a studio spokesman, who said executives haven't even seen the movie, but are pleased with the footage shot thus far.
Six seconds of footage which was screened last night during the Oscar credits, AFTER THE JUMP…
You may have missed…
Jude Law Handles Case of Robert Downey Jr.'s Firecrotch [tr]
Fight Club: Robert Downey Jr. as the New Shirtless Sherlock[tr]
Robert Downey Jr. Shows Off More of His Shirtless Sherlockness [tr]