The NAACP yesterday sent out a press statement expressing its opposition to Proposition 8 and voicing its support of the California legislature's challenge: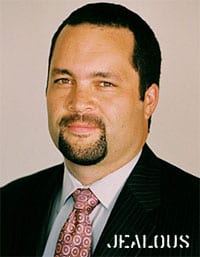 "In a letter to legislative leaders, NAACP national board chair Julian Bond and President and CEO Benjamin Todd Jealous urged passage of House Resolution 5 and Senate Resolution 7 to put the legislature on record calling for invalidation of Prop. 8 as an improper and dangerous alteration of the California Constitution. SR 7, sponsored by Equality California (EQCA), will be heard in theSenate Judiciary Committee on Feb. 24th and will proceed to the fullSenate for a vote shortly thereafter. Its companion bill, HR 5, alsosponsored by EQCA, passed the Assembly Judiciary Committee on Feb. 17thand is eligible for a vote before the full Assembly as early as today."
Said Jealous: "The NAACP's mission is to help create a society where all Americans have equal protection and opportunity under the law. Our Mission Statement calls for the 'equality of rights of all persons.' Prop. 8 strips same-sex couples of a fundamental freedom, as defined by the California State Supreme Court. In so doing, it poses a serious threat to all Americans. Prop. 8 is a discriminatory, unprecedented change to the California Constitution that, if allowed to stand, would undermine the very purpose of a constitution and courts – assuring equal protection and opportunity for all and safeguarding minorities from the tyranny of the majority."
The California State Conference of the NAACP filed briefs with the California Supreme Court, "arguing that the measure drastically alters the equal protection guarantee in California's Constitution and that the rights of a minority cannot be eliminated by a simple majority vote."
The Court will hear arguments on March 5 and has six months to rule on the matter.
Watch a pre-election interview of NAACP national board chair Julian Bond by Washington Post editorial board member Jonathan Capehart, AFTER THE JUMP...