A series of candlelight vigils are being planned by Marriage Equality USA on March 4th (one week from tomorrow), the evening before the California Supreme Court is scheduled to hear arguments in the challenge to Proposition 8, the measure which banned same-sex marriage in the state.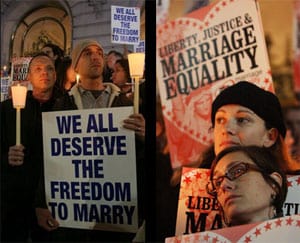 Said Molly McKay, Marriage Equality USA Media Director: "On the eve of justice, we're calling on Californians to march forth on March 4th in candlelight vigils to be held across the state in support of the Constitution's promise of equality for all. We invite supporters of marriage equality, their friends and families, and especially the 18,000 same-sex couples married last year, to join us in a showing of faith and support that love and justice will prevail."
So far vigils are planned in San Francisco, Los Angeles, Sacramento, San Diego, Fresno, San Luis Obispo, San Jose, Visalia, Modesto, Stockton, Bakersfield, and Roseville.
According to the group, "In most locations, these vigils will include recommitment ceremony, speakers and moment of silence. Below is the current list of organized events as of this press release. For the most up-to-date information, go to www.eveofjustice.com and interested organizations that wish to participate can e-mail vigil@marriageequality.org .
Adds Pamela Brown, Marriage Equality USA Policy Director:  "On March 5th, the California Supreme Court will hear oral arguments on why Proposition 8 should be repealed. Marriage Equality USA is working to raise $30,000 so that this historic oral argument on March 5th from 9am to noon can be seen and heard on a large jumbotron in Civic Center Plaza by the thousands of people expected to come to San Francisco to view the hearing. This venue will allow thousands of people to witness this historic event within view of the California Supreme Court."
Interested donors can go to Marriage Equality USA Supreme Court Jumbotron.
Information on all the VIGIL LOCATIONS planned thus far, AFTER THE JUMP…
San Francisco
Gather at Market and Castro from 5-6pm for pre-march rally in Harvey Milk Plaza, March steps off at 6pm down Market St to the CA Supreme Court (Civic Center) at 6:45pm. For more information contact ca-sanfrancisco@marriageequality.org
Los Angeles
Gather at Olvera Street in Downtown from 5:30-7:00pm for vigil program. For more information contact Geoff Scowcroft and Peter Wolf, Marriage Equality USA at ca-losangeles@marriageeequality.org
Sacramento
Gather at West Steps of Capitol from 5-6pm for pre-march rally. Step off at 6pm. Arrive at CA Supreme Court (914 Capitol Mall) at 6:30pm for short program. For more information contact Tina Reynolds or Jade Baranski at info@equalityactionnow.com
San Diego
Gather at the Hall of Justice at 330 W Broadway, San Diego CA 92101 from 4-6pm for a community rally with speakers and singing. A candlelight vigil will then line the streets of Downtown San Diego Starting at 6pm. For more information contact Fernando Lopez, Marriage Equality USA at  ca-sandiego@marriageequality.org
Fresno
Gather outside of the Fresno County Clerk's Office at 2221 Kern Street, Fresno, CA 93721 at 6pm for vigil program, recommitment ceremony, speakers and moment of silence. For more information contact Jason Scott, Marriage Equality USA at ca-fresno@marriageeequality.org
San Luis Obispo
Gather at the San Luis Obispo Downtown Center – 888 Marsh St. San Luis Obispo at 5:30pm. For more information contact David Kilburn, Marriage Equality USA at ca-sanluisobispo@marriageeequality.org
San Jose
Gather at the intersection of Winchester Boulevard and Stevens Creek Boulevard, at Santana Row and Valley Fair shopping centers from 6:30 to 8:00 pm. For more information, please email us at info@marriageequalitysiliconvalley.org
Visalia
Gather at 221 S. Mooney Blvd, Visalia, CA (on Courthouse lawn) from 5:30 – 7:30pm.  For more information contact Jamie Garza, Marriage Equality USA at ca-tulare@marriageequality.org
Modesto
Gather at 1010 10th Street in Downtown Modesto at 7pm to walk to the Court House for a short vigil program and moment of silence at 7:30 p.m. For more information, contact Beth Holden, Marriage Equality USA at ca-stanislaus@marriageequality.org
Stockton
Gather at the First Unitarian Universalist Church, 2737 Pacific Ave Stockton, CA 95204 at 6pm. For more information contact Martina Virrey, Marriage Equality USA at ca-sanjoaquin@marriageequality.org
Bakersfield
Gathering in two locations. In Delano, gather at the South End of Cecil Avenue Park on Cecil Avenue from 4-6pm and in Kernville, gather at Circle Park at 5pm. For more information, contact Marriage Equality USA at ca-kern@marriageequality.org
Roseville
Gathering at the Roseville Galleria Mall, 1151 Galleria Blvd from 6-7:30pm for a peaceful candlelight vigil.  Meet outside the mall entrance between the Cheesecake Factor (next to JC Penny) and Nordstroms. For more information, contact Marriage Equality USA at ca-placer@marriageequality.org
More at Eve of Justice…