The votes just aren't there yet for same-sex marriage, New York Senate majority leader Malcolm Smith told those attending the Human Rights Campaign's New York dinner on Saturday: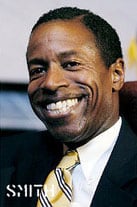 "I know one of your top priorities is the recognition of marriage between same-sex couples — something that I strongly support, something that I believe in and something that we will make happen together…Although we do not have the number of votes at this time needed to pass the marriage equality gender bill this legislative session, we are committed to pursuing its passage. And the question is not if; the question is when. So our work still needs to happen for it to happen this year. But I'm going to need your help, and I'm going to need your prayers."
Added Smith, according to Newsday: "We have reason to be encouraged. We're winning in the court of public opinion. I believe that the opponents aren't gripped by the kind of all-consuming passion, if you will, to derail the rights of same-sex couples to unite under law … we all want marriage and family, and a home to raise our families."
Smith's remarks don't come as a surprise. Though details of the Dem deal anointing Smith majority leader remain somewhat shrouded, it has been suggested that part of the deal was that same-sex marriage wouldn't be brought up until there were enough votes to pass it. In related news, freshman state senator Daniel Squadron told the Lambda Independent Democrats of Brooklyn that he didn't expect anything to move forward in 2009, or 2010 because of the election year.
Democratic Senator Tom Duane, however, expressed hope, calling the situation "fluid."
Smith's spokesman Austin Shafran released a statement on Sunday clarifying Smith's statements: "Last night the Senate Majority Leader reiterated his support for gay marriage when he spoke at the HRC Dinner. Senator Smith said that at the present time he does not believe there are sufficient votes in the Senate to pass the marriage equality bill which passed the Assembly last year. He asked for those attending the dinner to help him secure the additional votes needed for passage. The Majority Leader did not say the marriage equality bill will not pass this year. He said it will pass as soon as the votes can be secured and he is committed to continuing that process now."
For Supporters of Gay Marriage, a Dashing of Great Expectations [ny times]