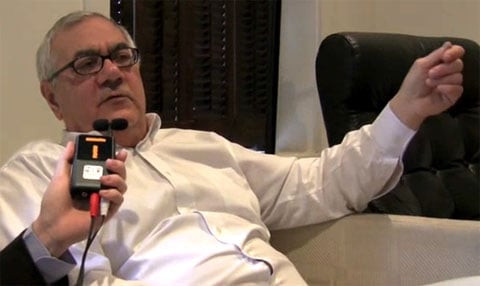 On the day before Obama's inauguration, we were able to visit Congressman Barney Frank (D-MA) in his Capitol Hill apartment. Because I was having some problems with the video, I wasn't able to upload it until now.
The video is in three parts. Watch it, AFTER THE JUMP…
In the first clip, Corey Johnson talks to Frank about the present and past inaugurations. Says Frank of Obama and the Democrats: "I think people are very discouraged by the Bush administration and the cavalry has arrived to rescue us."
In the second, they discuss the economy. Says Frank: "There's never in my experience been a sharper divide between the political and economic opinions of the average citizen in this country and those of the small number of people at the top of the pyramid. And the people at the top of the pyramid better understand that the great bulk of Americans are no longer licensing them to go and do what they think is necessary to provide assistance to these top institutions."
In the third clip, Frank discusses LGBT issues and the bills related to them: Says Frank: "I believe by the end of this Congress, two years from now, we will have repealed 'Don't Ask, Don't Tell', we will have passed a fully-inclusive hate crimes bill, and we will very probably have passed a fully-inclusive ENDA, and we will also begin…starting the process of getting recognition of … partner benefits for federal employees. That's probably as far as we're going to be able to go politically right now in the marriage area." He also talks about media exposure and his public persona.
Watch the clips, AFTER THE JUMP…
PART ONE: The Inauguration – for HQ click on lower right after pressing play.
PART TWO: The Economy
PART THREE: LGBT Issues.