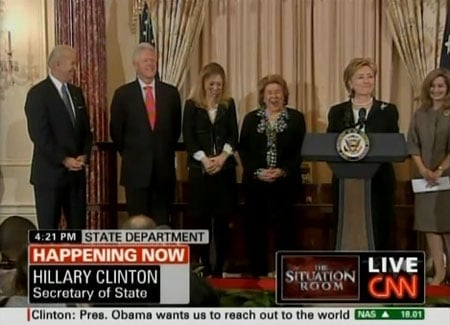 Rep. Tammy Baldwin sent a letter to Secretary of State Hillary Clinton today requesting specific inequities for gay State Department employees to be remedied, the Victory Fund reports. Said the letter: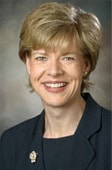 "The lack of equitable treatment could force dedicated, intelligent, and needed FSOs (Foreign Service Officers) and officials to make an unfortunate choice between serving their country and protecting their families. As you noted during the question and answer session of your Senate Foreign Relations confirmation hearing, many other nations now extend training, protection, and benefits to the partners of LGBT employees. Further, the State Department's past inattention to these disparities places it below parity with the best employment practices used in the private sector, where the majority of Fortune 500 companies extend employee benefit programs to cover the domestic partners. Without remedying these inequities, the State Department may fail to attract and retain qualified personnel."
The requests included:
– Inclusion in travel orders for same-sex domestic partners of Foreign Service Officers (FSOs)
– Access to training, including all language classes, area studies, and embassy effectiveness classes for same-sex domestic partners of FSOs
– Emergency evacuation and medevac from post when necessary for same-sex domestic partners of FSOs
– Access to post health units for same-sex domestic partners of FSOs
– Visa support for same-sex domestic partners accompanying FSOs to overseas postings, and for same-sex foreign-born domestic partners accompanying FSOs to postings in Washington or elsewhere in the U.S.
The letter was also signed by Senators Russ Feingold and Ron Wyden, and Rep. Ileana Ros-Lehtinen.


On Friday, Clinton met Michelle Schohn, president of Gays & Lesbians in Foreign Affairs Agencies, in a meeting with other affinity groups at the agency. Schohn said that Clinton confirmed receipt of a letter from GLIFAA and reiterated a promise to review policies with regard to gay staffers. Said Schohn: "It was an overwhelmingly positive meeting. There wasn't a lot of time to talk with her because she was meeting with all the affinity groups, so we each got a tiny chunk of time to be able to say something to her."
Clinton was sworn in today and roasted Bill Clinton, saying: "I am so grateful to him for, a lifetime of, uh…all kinds of experiences…which has given me an extraordinary richness that I am absolutely beholden to and grateful for.
Watch it, AFTER THE JUMP…