You may remember the San Diego firefighters who took the city to court claiming sexual harassment they say they suffered after being forced to participate in the city's Gay Pride parade. The first trial ended in a mistrial: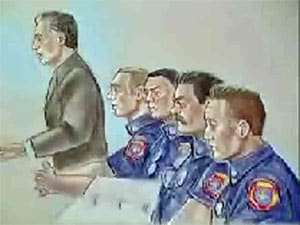 "In the first trial, the jurors split on the first question: Was the firefighter sexually harassed? They agreed only two were, but they couldn't agree on the next question: Was the abuse severe or pervasive?"
Now, the San Diego Union Tribune reports, as the re-trial enters its final stages jurors are again faced with that question:
"Did the four firefighters, who were ordered to drive a city fire engine in the 2007 gay pride parade, encounter pervasive or severe harassment from parade spectators and participants? Each firefighter has taken the stand, and after nearly two weeks of courtroom testimony, two theories have emerged. City attorneys suggested that the men are homophobic and painted them as money-hungry opportunists who were uncomfortable but not victims of sexual harassment. The defense also said most of the firefighters'problems stemmed from taking their case to the news media and filing the lawsuit. The firefighters said that not only were they victimized during the parade, they also suffered headaches, anxiety, anger and other stress-related issues because of what they heard and saw: catcalls, insults, simulated sex acts, public nudity, and men touching themselves and each other.
"All four firefighters are married, and three have children. They have more than 45 years of combined experience with the San Diego Fire-Rescue Department. All four testified last week that department supervisors ignored them when they said they didn't want to be in the parade. 'Nobody listened to us,' Capt. Jason Hewitt testified Thursday."
According to the paper, "The jury will be asked to answer about 10 questions, and at least nine of the jurors have to answer 'yes' to each question for the city to be held liable."
The jury should have the case by Wednesday.