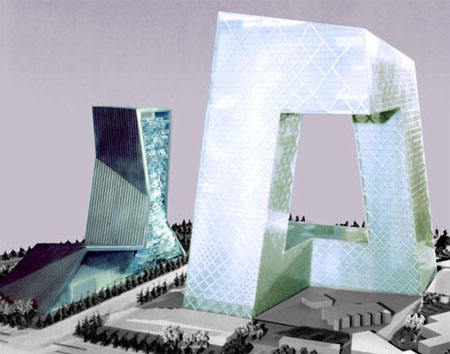 A structure in Beijing, China that was part of a group of buildings designed by architect Rem Koolhaas and OMA which was under construction and slated to house the Mandarin Oriental Hotel was almost completely gutted by fire yesterday. The larger structure, to be the headquarters of CCTV, did not suffer serious damage.
WSJ reports: "The inferno– which CCTV has admitted was caused by a fireworks display arranged by one its own employees-– turned the 44-story Television Cultural Center into blackened hulk…The building– which was to house the five-star Mandarin Oriental luxury hotel, a theater and recording studios-– was clad in a unique skin of titanium zinc alloy, a material that its designers believed would allow the building to rust with dignity and endure the passage of time better than other metal buildings, Pasternack wrote. (To some ordinary passersby, however, the shiny exterior resembled corrugated aluminum siding more suited to shantytowns.) Critics of the overall CCTV compound design say the project's gargantuan size, the TVCC building's boot shape and cantilevered overhang of the main building are designed to inspire fear and symbolize state power and media control. As if to reinforce this, Internet users complained that last night's inferno was played down by Chinese media."
Watch video of the blaze, AFTER THE JUMP…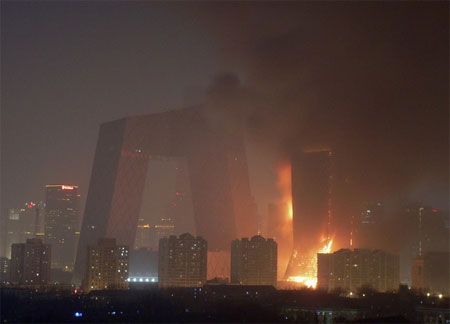 There are huge debates on the YouTube pages regarding the structure here and the WTC about why this structure didn't collapse.