Dallas megachurch pastor T.D. Jakes has said that he would never hire a sexually active gay person, has spoken out against same-sex marriage, and has called homosexuality a "brokenness." Now his son has been arrested in a sex sting after approaching law enforcement officers in a park and exposed himself to them while masturbating, according to the Dallas Voice: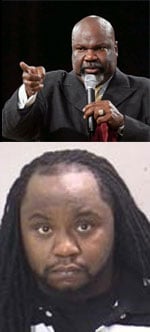 "Jermaine Donnell Jakes, 29, faces a charge of indecent exposure after allegedly exposing himself in front of two undercover vice detectives shortly after 10 p.m. on Jan. 3. Senior Cpl. Janice Crowther, a DPD spokeswoman, confirmed Thursday, Feb. 12 that the detectives were both male. According to an arrest affidavit, the detectives were conducting an investigation into citizen complaints of sexual activity when they observed Jakes and several other unknown males park their vehicles in the lot east of the park at 2106 W. Kiest Blvd. The detectives followed Jakes into a wooded area, where he approached them with his penis exposed through his unzipped pants, the affidavit states. Jakes masturbated for several seconds while making eye contact with one of the detectives. Jakes made no attempt to conceal his penis despite people walking and jogging on a trail nearby, the affidavit states. According to court records, Jermaine Jakes listed his place of employment as T.D. Jakes Ministries."
T.D. Jakes' ministry, Potter House, has a membership of 30,000.
The Dallas Morning News reports: " The son of Potter's House Bishop T.D. Jakes turned himself in to the Dallas County Jail on Thursday on an indecent exposure charge stemming from an incident at a southern Dallas park last month. Jermaine Jakes, 29, posted $1,000 bail and was released Thursday morning, according to jail records… He was detained at the scene and released, as is often the procedure in such cases. The charge is a Class B misdemeanor punishable by up to six months in jail and a $2,000 fine."
Local news report on the Jakes arrest, AFTER THE JUMP…