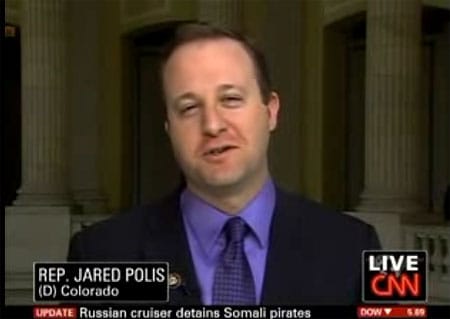 CNN interviewed freshman Congressman Jared Polis this afternoon before the House voted to pass President Obama's economic stimulus package. The bill received no Republican support:
"The vote was 246 to 183, reflecting the Democrats' considerable majority in the House and the Republicans' deep dissatisfaction with the measure, whose estimated price tag has fluctuated daily and was finally placed at $787 billion on Friday. Not a single Republican voted in favor of the bill. The Senate was expected to vote on the final legislation Friday evening, clearing the way for the paperwork to go to President Obama, who is eager to sign the measure."
Polis quashes suggestions by Republicans like John Boehner that nobody had time to read the bill.
Said Polis: "When you hear people talking about not reading it it's a little misleading. We've had most of this bill for weeks, so we've been following this through the process. The only pieces that we had to look at were ones that were changed in the final conference report…Most of the bill, probably 90% of the bill is what we passed a couple weeks ago."
Watch it, AFTER THE JUMP…
You may have missed…
Towleroad Interview: Congressman Jared Polis (D-CO) [tr]