Two more bills making up a gay rights "Common Ground Initiative" have failed to leave committee, the Salt Lake Tribune reports: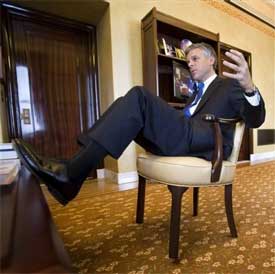 "The Utah Legislature snuffed out two more gay-rights bills Tuesday. After lengthy public hearings, House committees rejected two measures: HB288, which would have allowed same-sex couples and other unmarried pairs to adopt and foster children; and HB267, which would have protected gay and transgender Utahns from housing and employment discrimination. Two other gay-rights measures also are off the docket: One was pulled by its sponsor and the other died in committee. The final bill faces a test today. Gov. Jon Huntsman Jr. (pictured) endorsed the gay-rights effort, including the bills that make up the so-called Common Ground Initiative. 'We threw our support behind the initiative,' Huntsman said Tuesday. 'It was probably a tall order.' Still, the Republican governor said he was glad there had been 'discussion' about the proposed laws. In rejecting the latest measures, opponents painted being gay as a 'choice' rather than an innate characteristic — contrary to a broad consensus among psychological and medical experts."
Over the weekend, a group called America Forever took out a full page ad in the Tribune filled with hateful rhetoric and fear tactics.
The fifth "Common Ground" bill, which deals with property inheritance, medical decisions, and hospital visitation, is scheduled to be taken up this morning.
A news clip on the two recently-failed bills, AFTER THE JUMP…
you may have missed…
Utah Gov Voices Support for Gay Rights Initiative, Civil Unions [tr]
Religious Conservatives Gather to Oppose Gay Rights in Utah [tr]
Equality Utah Launches Multimedia Blitz After Senate Defeat [tr]
No Common Ground: First of Five Gay Rights Bills in Utah Killed [tr]