Wanda Sykes, who came out of the closet publicly last year at a demonstration in Las Vegas protesting the passage of Proposition 8, has been selected to perform at the annual White House Correspondents Dinner, traditionally a roast of the President: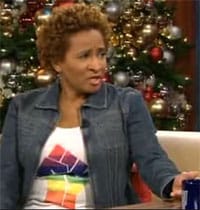 "The comic actress said Thursday that she has been selected as the entertainer at the annual White House Correspondents' Association annual dinner in Washington, slated for May 9. Obama is expected to attend the black-tie affair at the Washington Hilton and to follow in his predecessors' tradition by putting on a comedy act of his own. The guest list of some 2,000 people will likely include the usual mix of Washington elite, White House press corps and Hollywood celebrities. 'The first thing I did when they asked me to do this gig — I made sure my taxes were paid,' quipped Sykes, taking a dig at the withdrawal of former U.S. Sen. Tom Daschle from Obama's cabinet due to unpaid taxes…She said it's her job to 'poke fun and ridicule,' and even a popular figure like Obama isn't off limits. She already has some ideas about what she could mine for laughs. For example, she noted, Obama can be "a little long-winded. So we can get him on that."
Sykes began her career as a stand-up comic during an unhappy stint at the National Security Agency (NSA), where she worked for five years.
Watch Sykes come out at a rally in Las Vegas, AFTER THE JUMP…