Aussie Olympic gold-winning diver Matthew Mitcham lead off the Sydney Gay and Lesbian Mardi Gras parade over the weekend as its grand marshall. The parade attracted more than a quarter of a million people: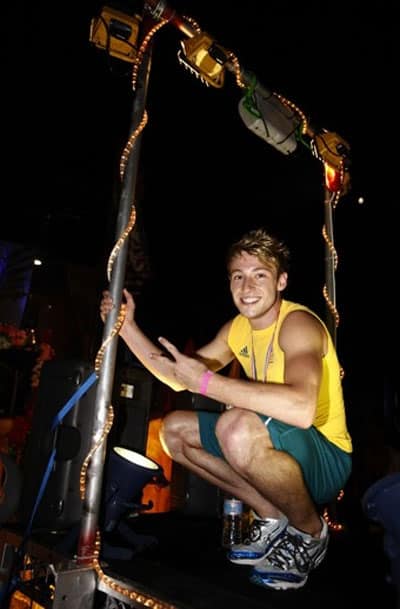 "Revelers decked out in sequins, feathers, wigs and leather dancedthrough the streets of Sydney on Saturday to the cheers of more than300,000 people at the annual Gay and Lesbian Mardi Gras. Morethan 130 floats and 9,500 people participated in the procession, whichbegan as a protest march in 1978 by homosexual and transsexual men andwomen and has flourished into one of the world's largest and mostflamboyant gay pride events…The parade kicked off with Olympic gold medal diverMatthew Mitcham, who stood atop the first float surrounded by maledancers dressed in Speedos and carrying scorecards. Lifeguards,cheerleaders, nurses and sports teams strutted and spun to theirfloats' music. Banks, schools and churches were represented, as werethe Australian Federal Police, the Defense Department and statefirefighters. All of the marchers, whether flamboyant in feathers andhigh heels or wearing their official work uniforms, were grinningear-to-ear as they waved to the crowd. Spectators waited for upto six hours for prime viewing spots along the 1.5-mile (2.4-kilometer)route of the 31st annual parade. Many were packed 10 rows thick alongthe sidewalk along the main thoroughfare Oxford Street, which was linedwith metal barricades and manned by police and parade officials."
This year's theme was Nations United.
Here's a gallery from the BBC.
And a parade gallery from Aussie gay site Same-Same.
American comedienne Joan Rivers also took part. Said Rivers to an Aussie news outlet: "Everyone's screaming and yelling. Everyone's dressed up. Everyone's in feathers and boas. It's like being in Tom Cruise's closet! It is just, an incredible experience. I cannot wait for it.":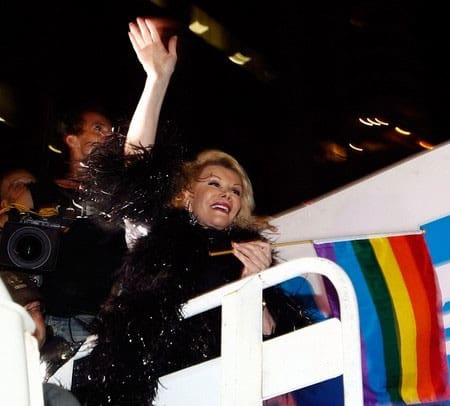 A gallery of videos, AFTER THE JUMP…
1. Australian news report with Mitcham and Joan Rivers interview.
2. Aussie gay site Same-Same interviews Matthew Mitcham.
3. A British couple takes you inside the Mardi Gras parade.
4. One more wrap-up of the parade.