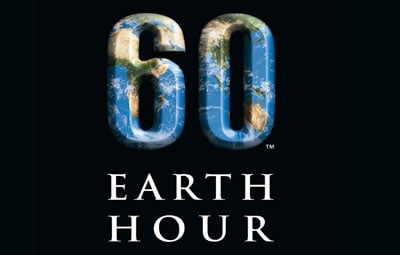 Earth Hour is tomorrow night, and it's bigger this year. Details, AFTER THE JUMP…
Tomorrow at 8:30 pm, people across the world are being asked to turn off their lights in Earth Hour, which the Secretary General of the UN is calling "the biggest climate change demonstration ever attempted." Organizers are hoping to get 1 billion people to participate.
The Sydney Morning Herald reports:
"In the US, the Empire State Building will dim its lights, along with Sears Tower in Chicago, San Francisco's Golden Gate Bridge and the lights of the casino strip in Las Vegas. In Canada, lights at Niagara Falls and Toronto's CN Tower will be turned off.Most major European cities are taking part. In Paris, the Eiffel Tower and the Arc de Triomphe have signed up for Earth Hour, while in Rome the lights of the Colosseum and the dome of St Peter's will be switched off, along with the Acropolis in Athens. Scores of towns and cities in Britain have embraced Earth Hour, and at 8.30pm local time lights will go out in Big Ben's clock tower, the London Eye, Edinburgh Castle and Cardiff's Millenium Stadium.
"Across Asia, dozens of major cities are joining in, including Hong Kong, Manila, Singapore and Bangkok. The Bird's Nest stadium in Beijing will turn off its lights along with the rest of the city's public buildings. In Kuala Lumpur, the giant Petronas Towers will take part.In Brazil many cities and towns have signed up, including Rio de Janeiro where lights illuminating the statue of Christ on Corcovado will be switched off. Lights at the pyramids in Egypt will be dimmed, too.Cities turning off their lights include Cape Town, Mexico City, Moscow, Mumbai and Istanbul.The Secretary-General of the United Nations, Ban Ki-moon, has backed the event, which is organised by WWF Australia with the support of Fairfax Media, publisher of the Herald."
It seemed to make a difference in Chicago last year.
Earth Hour [official site]