A man and his partner were attacked in the Bromley area of southeast London last night. One of the men died of stab wounds on his doorstep. His partner managed to "stagger" to a neighbor's house to call for assistance. He is in critical condition.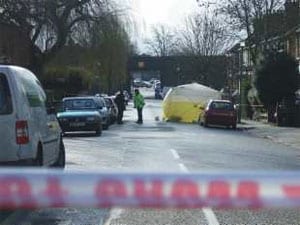 Police do not yet have a motive.
Said Detective Chief Inspector Cliff Lyons: "We are keeping an open mind regarding a motive for the attack. We have found no evidence of a break in and we are not ruling out that it may have been a homophobic attack. The location of the murder is near a busy road in the borough of Bromley. It is largely residential and I would have expected there would still be traffic either going past or from residents arriving home.We want to trace a white man, possibly in his 40s, who may have been in the area at the time. At this stage I do not know if he is a witness or a suspect. I want to hear from anyone who was in the area at the time, who may have seen or heard anything suspicious. Did you see a man running away or a car leaving the scene which may have drawn your attention?"
The victims of the attack have yet to be named. They were in their 50's and had reportedly lived at the address for years.