Two bills, one to constitutionally ban same-sex marriage and the other prohibiting discrimination based on sexual orientation failed and passed in the Delaware Senate and House, respectively, providing gay rights advocates with two victories despite a mob of bigots (pictured below) outside who actually formed a ring around the entire statehouse in Dover so they couldn't be ignored, according to Delaware's News Journal: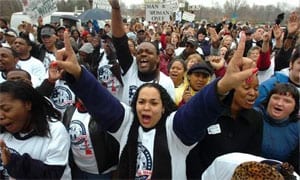 Senate Bill 27, the defeated constitutional amendment, sought to make
an existing state law that defines marriage as the union of a man and a
woman more difficult to overturn. But many members of the Senate voiced
concern that amending the constitution was unnecessary and even
inappropriate. The legislation was sponsored by Sen. Robert Venables, D-Laurel, who
said he wanted to make the already-illegal practice part of the state
Constitution to prevent courts from being able to overturn the law. Venables said other states have seen their legal bans overturned when courts ruled the laws were a violation of civil rights.Far from gaining the three-fifths majority necessary for an amendment to progress, the bill was voted down 11-9."
In the House, the 26-14 vote in favor of House Bill 5 came as no
surprise: Similar legislation has passed the House three times before,
but died each time in the Senate without a vote. The bill would prohibit discrimination on the basis of sexual
orientation in housing, employment, public works contracting, public
accommodations and insurance…Rep.
William A. Oberle Jr., R-Beechers Lot, sponsor of the three previous
bills, said he hopes the Senate finally takes up the bill this year. A
change in Senate rules this year could make that more likely: Committee
chairmen no longer can prevent a bill from going to the floor for
debate by using the so-called 'desk-drawer veto.'"