John Kerry has come to the aid of a Brazilian man, Genesio "Junior" Oliveira, who requested asylum in the U.S. in 2002. In 2005, he was married in Massachusetts to his husband Tim Coco, but the couple have been separated since 2007 when Oliveira was sent back to Brazil after his asylum requests and appeals were denied.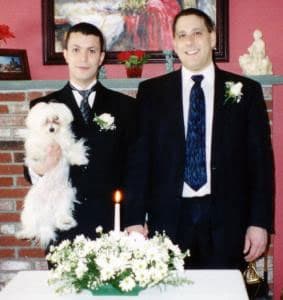 The AP reports: "Oliveira asked for asylum in 2002, saying he was raped and attacked by
a physician as a teenager in Brazil and feared persecution because of
his sexuality. The Associated Press does not typically name rape
victims, but Oliveira speaks openly about his case and allows his name
to be used. In a letter sent Thursday to Attorney General Eric Holder, Kerry
said Immigration Judge Francis Cramer found Oliveira's testimony to be
credible and his fear of living in Brazil genuine. However the judge
denied the claim, saying the man 'was never physically harmed,'
something Kerry called 'outrageous.' … 'Tim and Junior have played by the rules since day one,' Kerry said. 'Junior's asylum claim is a legitimate one and has been recognized as
such.' The Executive Office for Immigration Review will not confirm or deny
whether an immigrant has requested asylum. The Department of Justice
said Holder would review the letter."
Cases like these are why the Uniting American Families Act, which was recently reintroduced, is so important. As well, of course, as the repeal of DOMA which prevents the federal government from recognizing anything other than a heterosexual marriage.