Keith Phoenix, the 28-year-old man who was arrested last week in the brutal killing of Ecuadorean immigrant Jose Sucuzhanay in December, says he was pissed because Sucuzhanay and his brother walked in front of his SUV and kicked it after Phoenix blew the horn at them, according to the New York Daily News. He claims he was acting in self-defense because he thought Sucuzhanay had a gun: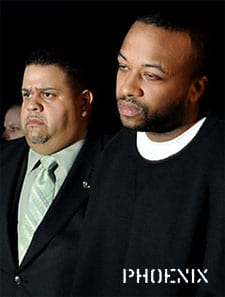 "So he grabbed a bat from the SUV and struck Jose four times, he said, and hit him twice more when he thought he was reaching for the gun again.Phoenix, a paroled robber, swore he had no idea he killed a man until cops told him. 'Dead? Dead? If I knew he was dead I would have been going crazy,' he said. 'I have remorse for the death.'He denied police accounts that he callously blurted, 'So I killed someone – that makes me a bad guy?' when nabbed.Police and the Sucuzhanay family scoffed at the account.What he said is 'insulting to the victims,' railed family lawyer Jose Arrufat Gracia.' His statements are contrary to the facts. Neither brother had a weapon,' Deputy Police Commissioner Paul Browne said.Cops say he got out of his SUV spewing anti-gay and anti-Hispanic epithets.Phoenix, whose lawyer also claimed his client was acting in self-defense, said he was stung by allegations he targeted the brothers because he thought they were gay. 'I'm not a hateful person,' he said. 'I have nothing against gay people.' He also said he is part Hispanic.Asked about surveillance video that shows him laughing 20 minutes after the attack, he said he was bantering with a toll clerk"
Phoenix's lawyer told the court: "The deceased was the aggressor." He later told reporters: "To me, it is not a gay bashing or gay hate crime."
The NYPD and mayor's press conference from late last week, AFTER THE JUMP…