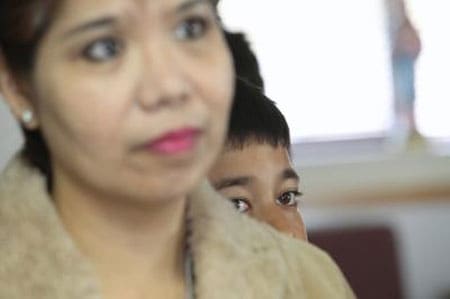 Why? Because the U.S. Government does not see LGBT people as equal citizens:
"If Jay Mercado, [Shirley] Tan's partner
of 23 years and the mother of her sons, were a different gender, it's
highly unlikely that [authorities] ever would have come. As a U.S. citizen,
Mercado could have sponsored a wedded spouse for legal permanent
residency. But although Mercado and Tan (above) married in San Francisco in
2004, federal law limits the definition of marriage to a man and a
woman, and same-sex partners of U.S. citizens don't have a route to
legal permanent residence extended to straight married couples…Mercado and Tan, who first
appealed for political asylum for Tan in 1995 and thought their case
was still pending, said they were completely unaware a deportation
order had been issued in 2002. If Tan is deported this week, they will
have to decide between separating two sons from one of their mothers,
or moving the family to a country they have never known."
Thankfully, Congressmen like Jerrold Nadler and John Kerry are trying to help get rid of this injustice.
Binational, same-sex couples face immigration problems [san jose mercury news]