Racist homophobe radio host Rush Limbaugh rallied conservatives at the CPAC conference this weekend with a 90-minute speech that was scheduled to last 20 minutes. Limbaugh expanded on recent remarks that he hopes Obama and the new Democratic administration fails: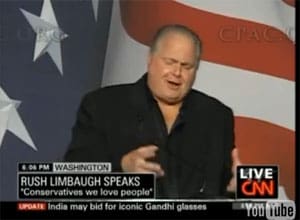 "Doesn't matter to me what his race is. It doesn't matter. He's liberal is what matters to me. And his articulated — his articulated plans scare me. Now, I understand we can't say we want the President to fail, Mr. Limbaugh. That's like saying — this is the voice of the New Castrati, by the way, guys who have lost their guts. You can't say Mr. Limbaugh that you want the President to fail because that's like saying you want the country to fail. It's the opposite. I want the country to survive. I want the country to succeed. [Cheers and Applause] [Crowd Chanting 'USA' ]"
Obama Chief of Staff Rahm Emanuel told Bob Schieffer on Meet the Press that Limbaugh has become the voice of the Republican party:
"He is the voice and the intellectual force and energy behind the Republican party. He has been up front about what he views and hasn't stepped back from that which is he hopes for failure. He said it. I compliment him for his honesty but that's their philosophy that is enunciated by Rush Limbaugh. I think that's the wrong philosophy for America."
Clips, AFTER THE JUMP….
CNN aired a short clip of the Limbaugh remarks I quoted above, which cut out just as Limbaugh was lisping into a Barney Frank-ish impression of "the new castrati":
Former Senator Rick Santorum and pundit Michelle Malkin revealed how the GOP faithful have fallen into lockstep behind their new leader: