In anticipation of the Proposition 8 arguments before the California Supreme Court on Thursday, both houses of California's legislature passed resolutions endorsing efforts to overturn it: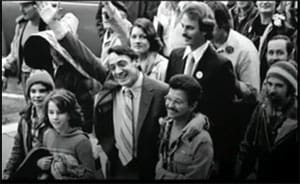 "The resolutions passed along party lines, 18-14 in the Senate and 45-27in the Assembly, with several members absent in both chambers…The resolutions in each house were identical. They do not requireaction by the governor, but merely express the intent of theLegislature — in this case to support the legal arguments againstProposition 8."
Equality California released a television ad they're raising money to keep on the air which highlights the persecution of gay people over the years.
Watch it, AFTER THE JUMP…
"For every Jerry Falwell, there's a Harvey Milk"
Really?

I hate to sound like a 'debbie downer' because the images and issues here could not be more serious, but would Harvey Milk have approved the soporific, feel-good elevator music and the groovy stoned sounding narrator that accompanies this ad? Where's the anger?