Two patrons of Robert's Lafitte, a gay-friendly bar that was the first of two bars to re-open in Galveston, Texas after Hurricane Ike ripped across the island last September, were injured after three men threw objects at them, according to the Galveston Daily News: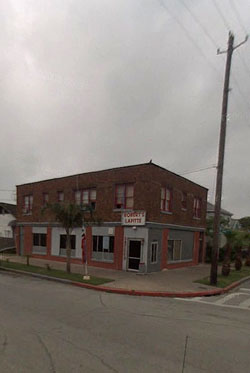 "A 4-pound stone, one of several door stops
hurled at patrons in a bar that includes gay people among its
clientele, left one man with 12 staples in the back of his head and two
brothers and an acquaintance accused of a hate crime. Marc
Bosaw, 57, said Monday he has little recollection of the Sunday night
attack, in which police said one suspect held open the door to Robert's
Lafitte bar while two others launched an assault shortly after 8 p.m. Bosaw sat at the corner of the bar at 2501 Ave. Q just a few feet from one of two entryway doors. 'I
thought I had just been slapped, and the second rock hit me here,'
Bosaw said of the mark on his hand. 'Everything went white in my mind,
and I thought that was it. I even said 'goodbye.'' The barrage
also hit another patron, James Nickelson, 39, who police listed as a
Houston resident, but bar patrons said Monday they believed he had
recently moved to the island."
Other bar patrons reportedly struggled to keep Bosaw conscious before he was transported to a regional medical center.
The Houston Chronicle reports: "The three men fled,
but were apprehended by police about 10 blocks from the bar, Alvarez
said. They were then brought back to the bar, where witnessses
identified them. One of the men arrested told police they targeted the establishment because it was a gay bar, Alvarez said. All three men were
charged with aggravated assault with a deadly weapon along with hate
crime charges. They are being held on a combined bond of $120,000."
According to the Galveston News, "Bonds for Lawrence Henry Lewis III, 20,
Lawrneil Henry Lewis, 18, and Alejandro Sam Gray, 17, all of Galveston,
were set at $120,000 each on two counts of aggravated assault with a
deadly weapon with the enhancement of a hate crime, said Lt. D.J.
Alvarez, a Galveston police spokesman."
Robert's Lafitte became a place of refuge after Hurricane Ike, providing food and water for locals in need.