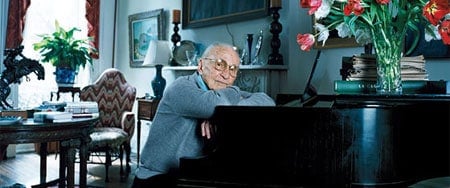 As his West Side Story returns to Broadway following the recent revival of Gypsy with Patti Lupone, New York magazine serves up a big profile on 91-year-old Arthur Laurents, big on details of both revivals and Laurents' relationships with his collaborators, rivals, enemies, and late longtime partner: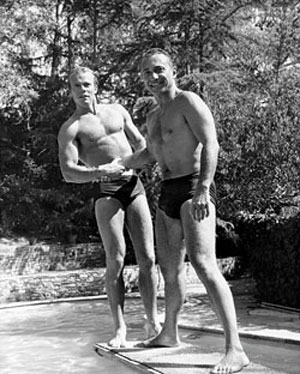 "A conversation with Laurents is dishy fun, as long as you aren't
worried about collateral damage. (An ex-friend: "He always wants to
suck you into his malevolent opinions of someone; you have a choice to
agree and feel hypocritical or disagree and get dropped.") His mastery
of the writer's zoom lens for the unimprovable detail is always
evident: the musical he and his partner, Tom Hatcher (pictured, left, with Laurents in 1962), took Laurents's
parents to see when they met—She Loves Me; the stack of "how to stop drinking" books on a table as martinis are served at eleven in the morning. You
hardly realize that while you were being distracted by such treats, the
seducer has rotated his anecdotes 90 degrees; wherever they started,
they now star him. And he knows exactly how to play the Robert Redford
role of glamorous writer. His five years in the Army, he says, were
partly spent "writing and drinking and screwing my head off" in a radio
unit "created for me." A story about his analysis ends up suggesting
that Laurents himself is indirectly responsible for the removal of
homosexuality from the American Psychiatric Association's list of
perversions. If
provocation is Laurents's default mode, his life experience long ago
taught him the value, and perhaps the necessity, of unashamedness. Even
in the fifties he was audacious enough to put Hatcher—a drop-dead hunk
of a model turned actor he met selling clothes at a Beverly Hills men's
store—in some of his plays. But living openly as a gay man (and a lefty
atheist Jew to boot) was only the start of it."
I've posted some shots of the West Side Story revival here and here.
The NY mag article goes more into Laurents' relationship with Hatcher, who died in 2006 of lung cancer: "After 52 years together, Laurents understandably sees his partner's
hand in everything he does. Until Hatcher died, Laurents didn't even
have an ATM card. And it was Hatcher who convinced him to direct the
LuPone Gypsy, so that Mendes's version wouldn't be the last
one seen on Broadway in Laurents's life. Part enforcer, part enabler,
part keeper of the flame and of the grudges, Hatcher made Laurents's
writing life possible and somehow still would."
When You're a Shark, You're a Shark All the Way [new york magazine]