Last week, the New Hampshire House Judiciary Committee sent HB 556, which would allow gay couples to marry, to the House floor without recommendation after deadlocking 10-10 on it.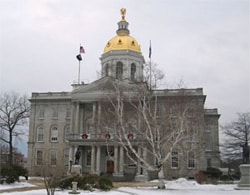 Today, after initially failing by one vote (183-182), the New Hampshire House took a second vote under a motion to reconsider, and seven lawmakers switched their votes.
The bill passed 186-179, and now goes on to the senate.
It also survived a 177-189 vote to kill it, and another failed effort to postpone it for "more work."
The Union-Leader reports: "Gov. John Lynch does not support same-sex marriage. His press
secretary Colin Manning said, 'The civil unions bill he signed into law
prevents discrimination and provides the same legal protections to all
New Hampshire families to the extent that is possible under federal
law.' The bill was amended today to state that no clergy of any
religion could be required under the bill to officiate at a same-sex
marriage. Rep. David Pierce, D-Etna, in arguing for passage, told
House members, 'Both sides of this debate believe in the institution of
marriage,' said. 'We all want the same things during our time on earth.
It doesn't matter if you're straight or gay.' Rep. Laura Gandia,
R-Litchfield, warned it will make children of this and future
generations 'guinea pigs in a massive social experiment that is
irreversible.' Democrats were joined by about a dozen Republicans in passing the bill."
More details as they come in…