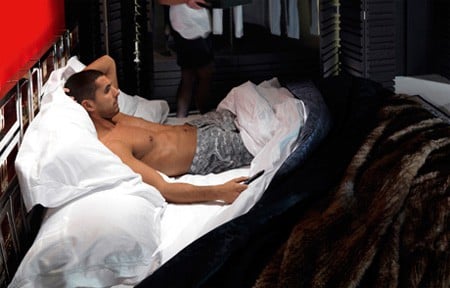 Andrea Vasa, a defender for Milan's local football club Brera, is currently living in the new Dirk Bikkembergs boutique in Milan in an attempt to fully immerse customers in a star athlete's luxury lifestyle.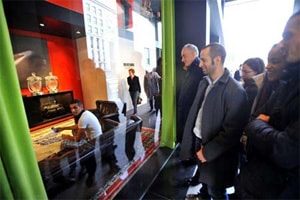 "Selected by Dirk Bikkembergs himself, Andrea now lives in the flagship store under the eyes of the store's clients. Among the shelves and clothes hangers exposing the items that are for sale, Andrea's personal clothes can be found, as well as the pictures and books he chose to take with him to his new home.Andrea lives in the apartment at Via Manzoni 47 in total freedom. He can invite family and friends and can count on a housekeeper, who will tidy up his living quarters at set times or upon demand. His role is to be admired alongside the sunglasses, shirts, jackets and football boots. Visitors can come and have a look at his wardrobe. Before going out, Andrea will take a shower in a relax room papered with pages from Gazzetta dello Sport, compose his outfit for the following occasion, preen himself in one of the silver trophies, step into his Porsche and drive it out through a massive window that doubles as a garage door."
Unfortunately, the shower is the only portion of the apartment that's covered.
Two more shots, AFTER THE JUMP…