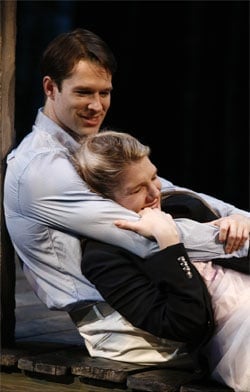 At the Samuel J. Friedman Theatre, MTC's Broadway outpost, you have this one last weekend to catch Richard Greenberg's The American Plan starring one of Edward Albee's favorite actresses, Mercedes Ruehl, as the maternal presence whose beastliness has been caused by her own survival of the Holocaust.
With echoes of other beastly maternal narratives — The Glass Menagerie, Suddenly Last Summer, Light in the Piazza — Greenberg has fashioned a play about emotional subterfuge and a kind of warped devotion that lashes the loved to those who love them for all their own convoluted reasons.
Most of the play takes place in the Catskills one summer right before the dawn of the 1960s and there is that sense of inchoate freedom – sexual and political — covering the play like some mist off a Catskills lake.
Ruehl is riveting in the role of the monstrous mother with the thick German accent — yet I was never sure if she was riveting because she was so good or because she was so bad. But I often have that response to her. Lily Rabe who plays her daugher, who is lashed with all that maternal love, is becoming one of our most enchanting stage actresses. And there is beefcake to behold in the first lakeside scene and a gay subplot as well. It's all a bit diffuse finally, but definitely a fine production — directed by David Grindley — of a flawed early Greenberg play.
T T T(out of 4 possible T's)
The American Plan, Samuel J. Friedman Theatre, 261 West 47th Street, New York. Ticket information here.
***RUINED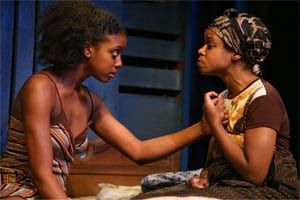 I was spellbound from beginning to end by Ruined at New York City Center Stage I, MTC's outpost on 55th Street. Written by Lynn Nottage and directed by Kate Whorisky, it is another transfer from Chicago, this time from the Goodman Theatre.
Set in the bar/whore house in a small mining town in the Ituri Rainforest of the Democratic Republic of Congo, the play is exotic in its locale and yet its dramatic concerns are more commonplace — how do its protagonists emotionally survive in a world that is cruel and increasingly loveless?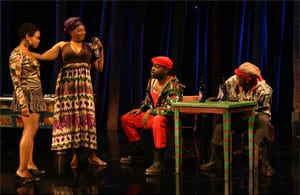 Nottage has fashioned a singular drama from this commonplace concern as she — through the beauty of her language and the visceral use of African music and songs — takes us on an emotional journey with the madam of the whorehouse and her girls who have been "saved" after being repeatedly raped at the hands of war-weary soldiers.
Again, this is yet another exquisite cast of actors, which includes the almost eerily beautiful daughter of Phylicia and Ahmad Rashad—  Condola Rashad — making her New York debut as one of the "ruined" women of the title. Saidah Arrika Ekulona as Mama Nadi, the madam of the house — kind of Congolese Mother Courage — so seamlessly becomes her character that one forgets at times one is watching a performance. But it is Russell Gebert Jones, as the one kindhearted man in the play, who will steal your heart just as he finally does Mama Nadi's in the show's slightly sentimental — though profoundly hard-earned — finale. Bravo to all concerned.
T T T T (extended through May 3rd)
Ruined,  New York City Center, Stage I,
131 West 55th Street, New York. Ticket information here.
Recently…
A Conversation on 33 Variations: Kevin Sessums Talks to Jane Fonda and Moises Kaufman [tr]
On the Stage: Becky Shaw and The Third Story [tr]
On the Stage: Pal Joey and Hedda Gabbler [tr]

On the Stage: Billy Elliot, Shrek, 13, and Prayer for My Enemy [tr]

On the Stage: Back Back Back and Farragut North [tr]

On the Stage: Streamers and The Language of Trees [tr]