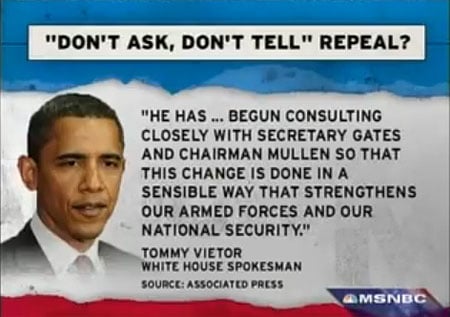 Obama has begun consulting his advisors on repealing the military's "Don't Ask, Don't Tell" policy, according to a statement from the White House which offers no time frame and doesn't say whether a commission will be named to further study it.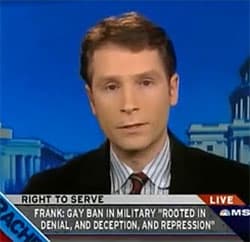 AP: "The move enablesObama to say he's making good on his campaign promise to reverse thelaw, but doesn't lock him into doing so anytime soon. The carefullycalculated statement, released this week by White House spokesman TommyVietor, leaves enough wiggle room to prevent the hot-button issue fromconsuming Obama's foreign policy agenda, which is dominated by endingthe Iraq war and salvaging operations in Afghanistan. 'The president supports changing 'Don't Ask, Don't Tell,' Vietor said in the e-mailed statement. 'Aspart of a long-standing pledge,' Obama has begun consulting closelywith Defense Secretary Robert Gates and Joint Chiefs of Staff ChairmanAdm. Michael Mullen 'so that this change is done in a sensible way thatstrengthens our armed forces and our national security,' Vietor said."
This week, Rep. Ellen Tauscher re-introduced legislation to repeal the ban.
In February, Obama said more assessment was needed before the ban could be repealed, a statement that was rebutted by Servicemembers Legal Defense Network executive director Aubrey Sarvis, who cited the "long line of reports" disputing the ban's effectiveness that began 21 years ago, as well as the hundreds of military figures who have come out against it.
A new book by researcher Nathaniel Frank which investigates the extremely flawed roots of the flawed policy was released this week. Towleroad published details of the book earlier this week in which Frank reveals that creators of the policy had no empirical data and made up the conclusions that lead to the creation of the policy.
Rachel Maddow interviewed Frank about the book last night. Watch it, AFTER THE JUMP…
Previously
Rep. Ellen Tauscher on 'Don't Ask, Don't Tell' [tr]
Military Suppressed Evidence Critical of Gay Ban, Says Author [tr]
Politico: Bill Repealing Military Gay Ban to Be Introduced Today [tr]