Yesterday I posted about a gay couple, Josh Kehoe and Bobby Daniel Caldwell, who said they were attacked by a group of 15 to 20 youths following a Britney Spears concert at the Prudential Center in Newark, New Jersey. The group reportedly used anti-gay slurs as they beat the couple, breaking Caldwell's jaw in two places.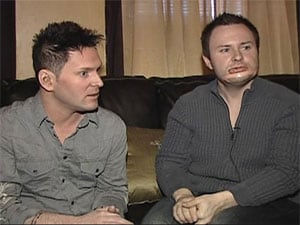 The police have some leads: "The Essex County prosecutors office, however, says police do not
believe the incident was bias-related. That may be because the victims
told cops a group of young women was attacked and had their purses
stolen just a few minutes later, according to the police report filed…Kehoe says it took Newark Police nearly 45
minutes to get to the scene. The two have filed complaints with Newark
Mayor Cory Booker's office. Mayor Booker has since reached out to the victims, expressing his outrage over what happened. The investigation, so far, is leading police to believe that
a teen party in downtown Newark may be linked to Saturday's attack. The
attackers may have attended the massive gathering, which was said to
have had over 500 attendees, according to McCarthy. Police are
now reviewing tapes from a number of surveillance cameras in the area,
and are confident they will be able to arrest those responsible."