Politico reports that legislation is to be introduced today calling for the repeal of the military's "Don't Ask, Don't Tell" policy: "On Monday, buoyed by a stronger Democratic majority in Congress, Rep.
Ellen O. Tauscher (D-Calif.) will introduce legislation to overturn the
ban against homosexuals serving openly in the military, a Tauscher aide
said."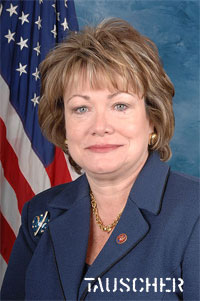 Tauscher is the lead sponsor of The Military Readiness Enhancement Act, a role she took over from Congressman Martin Meehan. It was first introduced in the 109th Congress. Meehan reintroduced the bill in February 2007, during the 110th Congress. The bill currently has 144 bipartisan co-sponsors. It seeks to repeal the military's failed "Don't Ask, Don't Tell" policy, replacing it with language prohibiting discrimination based on sexual orientation in the armed forces.
In late February, the Servicemember's Legal Defense Network (SLDN) urged Defense Secretary Robert Gates to repeal the failed policy in response to a report that the Pentagon announced a new recruitment goal of 1,000 immigrants in
the United States on temporary visas, over the next 12 months.
Said Aubrey Sarvis, executive director of SLDN: "It is ironic that the Pentagon is beginning a program to actively
recruit legal immigrants but continues to exclude citizens who are
capable, tough, and dedicated service members ready and willing to
serve their country. We should be enlisting men and
women in this country – as long as they're qualified – wherever we can
find them."
In early February, Obama said that more analysis was necessary before the ban could be repealed, a statement rebutted by Sarvis, who cited the long list of reports that have shown DADT to be a fialed policy, and the hundreds of prominent military personnel who have come out against the ban.
Watch an interview by SLDN with Rep. Tauscher that was conducted last July,
AFTER THE JUMP…