It's being reported that Bruno, which follows Baron Cohen's gay Austrian news reporter in his travels in America, is on par with Borat in terms of its outrageousness. Twenty minutes of footage were played in two screenings to several hundred people at Austin's SXSW festival over the weekend, according to The Hollywood Reporter: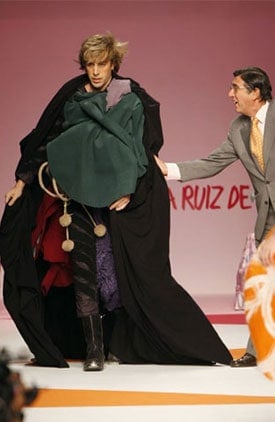 "Sacha Baron Cohen was not there…though he did
appear on screen over the course of the footage several times, as
himself, to introduce the skits and caution these were extended bits
that would be condensed for the final film…The
first involved Bruno telling eager parents he was doing a baby photo
shoot, and would they be willing to do outlandish things, like drop
their baby several stories, in order to be in the shoot? (Of course
many were.) A second segment also involved a baby shoot, and
Bruno asking parents if their baby could lose some weight or even go
through liposuction because he's too fat. in a third, he hosts a
mixed-martial arts competition, which seems to be going well until he
begins making out with another man, earning the boos of the crowd."
Austin 360 reports: When the baby thing doesn't turn out as Bruno had hoped, he morphs
into another person, Straight Dave, the host of a TV wrestling show
called Man-Slamming Maxout. But it seems as though Straight Dave still has a few latent urges
lingering below. Let's just say that the Straight Dave fans are in for
a disappointment. It's not clear whether Cohen has really continued to find clueless
audiences who will fall for his antics. But it appears that he has. The
movie is bound to stir up just as much controversy as Borat. And that's
the point."
Bruno, which follow's Baron Cohen's gay Austrian news reporter
character, has been making headlines around the country all year
because of the filmmaker's stealth approach to shooting. In addition to
staging a gay orgy, Baron Cohen crashed fashion shows earlier this year
in Paris and Milan, caused havoc at a cage fighting event in Arkansas, go-go danced in the middle of a Wichita airport terminal, and duped Ben Affleck as well as a former Israeli spy into doing serious interviews with him, and crashed a "Proposition 8" rally two days before the election where he was photographed and caught on film by another media outlet.
Bruno has a release date of July 10.