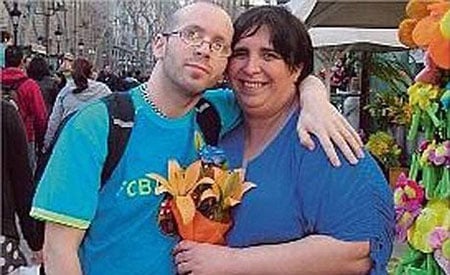 Spaniard Ruben Coronado (left), who is in the process of transitioning from female to male, has halted the process because he is pregnant with twins, according to the UK Telegraph, who reports he went public "so people start to see a transsexual
pregnancy as normal.":
"Mr Coronado, born a woman called Estefania or Stephanie and still considered
female under Spanish law, is due to give birth at the end of September. He is the first Spanish transsexual to fall pregnant and it is thought he will
become the world's first transsexual father of twins if everything goes to
plan. He will bring the twins up with his partner Esperanza Ruiz, 43. They plan to
marry before they become parents. Once he becomes a parent he will resume his sex-change surgery and become a
father rather than mother."
Said Coronado (in a statement that seems a bit flip and ham-handed — perhaps it's the translation): "It's like
being born with three hands. You take advantage of them while you have them and you get rid of one
of them when they get in the way."
Thomas Beatie, the U.S. transgender man who made headlines last year, reported in November that he was pregnant again and is due on June 12.
Coronado is due at the end of September.