Vermont Governor Jim Douglas said today he will veto a same-sex marriage bill if it comes to his desk, WCAX reports: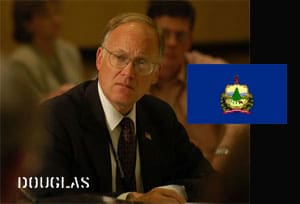 "He made the public announcement this afternoon. The
Vt. Senate gave its final stamp of approval Tuesday to a bill that
would allow same-sex couples to marry in Vermont. Passage came on a
voice vote with no debate, one day after the Senate gave the bill
preliminary approval on a 26-4 roll call vote. Now the issue moves to
the House, where the Judiciary Committee has scheduled a week's worth
of testimony on the issue. It is expected to pass. Governor
Douglas has said that he opposes the bill, and this afternoon he
announced he plans to veto it. He said he made the announcement to stop
speculation and to focus attention on economy."
Douglas has said he's opposed to same-sex marriage legislation but had until today refused to say what he'd do if they bill reached his desk. Lawmakers had expressed confidence that Douglas would let the bill become law without his signature or veto.
According to Vermont's Legislative website, "If he vetoes the bill it is returned
together with the veto message to the  Clerk of the House or Secretary of the
Senate. Then that house must consider it and if it is passed by a two-thirds
vote of each house, then it goes to the Secretary of States office and becomes
a permanent part of the statutes. If either house fails to get a two-thirds
vote the bill is dead."