After a week of heated public hearings, the Vermont Senate voted 26-4 today to approve same-sex marriage in the state, the Burlington Free Press reports: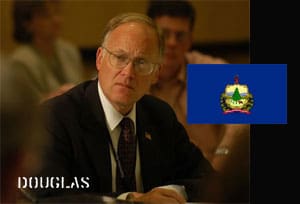 "The bill will have third reading and vote Tuesday. All bills have threereadings. It is designed for people to reconsider or amend an item, butit unlikely that a vote would change on a third reading. A similarmeasure begins moving through the House on Tuesday with testimonybefore the House Judiciary Committee. A full vote on that measurewouldn't come before next week. The four senators who voted against the measure are: Randy Brock(R-Franklin County), Vince Illuzzi (R-Essex/Orleans), Hull Maynard(R-Rutland County) and Bobby Starr (D-Essex/Orleans). Senators who had been undecided, including Sen. Dick Mazza(D-Chittenden/Grand Isle), Phil Scott (R-Washington) and Bill Doyle(R-Washington), all voted in favor of the bill."
The measure is expected to move quickly through the House, according to NECN. Governor Jim Douglas has said he's opposed to same-sex marriage legislation but has refused to say what he'll do if such a bill comes to his desk. Lawmakers have expressed confidence that he'll let the bill become law without his signature or veto.
NECN's report on today's Senate vote, AFTER THE JUMP…