Allen Andrade was sentenced to life in prison without parole for the brutal murder of Angie Zapata in Greeley, Colorado in July 2008.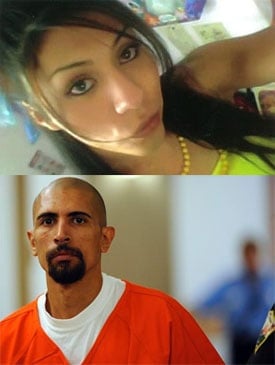 The Colorado Independent: "A man convicted Wednesday of using a fire extinguisher to crush theskull of a transgender Greeley woman was sentenced to life imprisonmentwithout the possibility of parole just over an hour after a juryreturned guilty verdicts on all four counts charged, includingfirst-degree murder and hate-crime charges."
Said Judge Marcelo Kopcow: "Mr. Andrade, I hope as you're spending the remaining part of yournatural life in the Department of Corrections that everyday you thinkof the violence and brutality that you caused on this fellow humanbeing and the pain you have caused not only on your family but thefamily of Angie Zapata."
GLAAD President Neil Giuliano released this statement regarding the trial: "Today's verdict was about justice for Angie Zapata, although no verdict will ever be able to heal the tragic loss experienced by Angie's family. The past few months have offered Greeley residents, as well as people throughout Colorado and across the nation, an opportunity to better understand transgender lives and the horrifying reality of anti-transgender violence.  Media coverage of this case has played a vital role in broadening that understanding, and it has helped more people understand the importance of a fully inclusive hate crime law like Colorado's."
A statement from the Colorado Anti-Violence Program and the National Coalition of Anti-Violence Programs at Pam's House Blend.
Watch the verdict and sentencing, AFTER THE JUMP…
Sentencing: