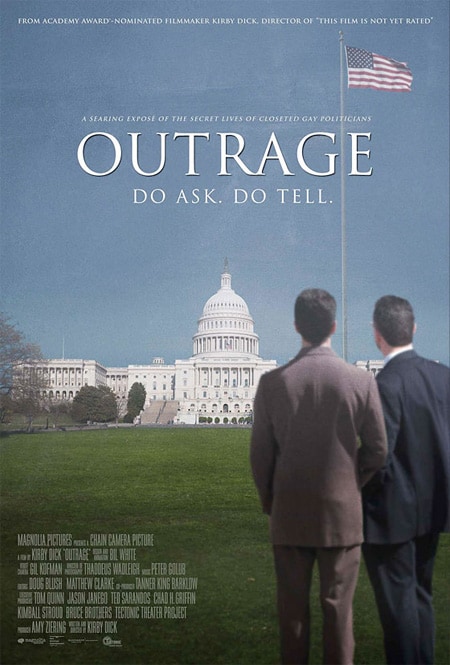 Last night I had the opportunity to see the first final cut of Outrage shown to the public, before its opening at the Tribeca Film Festival. For those who have not yet heard of Outrage, it's a documentary by Kirby Dick (This Film is Not Yet Rated) about closeted Republican hypocrites and the way their hypocrisy damages lives — not only their personal lives but the millions of gays and lesbians their homophobic policymaking affects.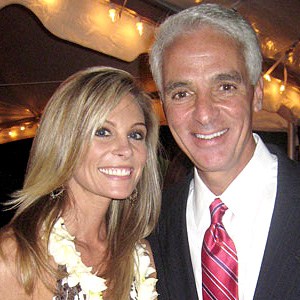 It's a well-packaged effort covering the Reagan years and the birth of the religious right to the present, wrapping up the stories of Idaho Senator Larry Craig, Virginia Rep. Ed Schrock, former NJ Governor Jim McGreevey, Mark Foley, former NYC Mayor Ed Koch, 2004 Bush/Cheney campaign manager Ed Mehlman, former GOP National Field Director Dan Gurley, former Arizona congressman Jim Kolbe, former Louisiana congressman Jim McCrery, and current congressman David Dreier, into a tightly wound exposé of closeted D.C.
It's the first major piece of media which has painted such a comprehensive, unflinching look at the GOP's closet.
The film shines an especially unflattering spotlight on Florida Governor Charlie Crist, devoting much of its time to the stories that have already been told (by alternative press) about the governor, and his various relationships with women which have fallen conveniently during campaign periods. It also asks why mainstream media has refused to cover them.
The filmmakers attempted to talk to Kelly Heyniger (pictured, with Crist), Crist's last girlfriend before marrying wife Carole Rome in the run-up to McCain's VP pick. His relationship with Heyniger ended in 2007. The filmmakers wanted to ask her about his sexuality.
Heyniger told them: "I think I'll just keep my mouth shut…call me in 10 years and I'll tell you a story."
The early efforts of Michelangelo Signorile in outing politicians, and the crusades of blogger Mike Rogers (blogactive) are also highlighted.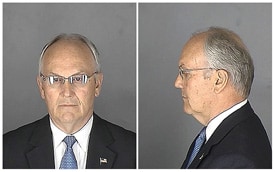 Dick's deft layering of audio tapes, interviews, and sexual confessions against the anti-gay votes these politicians have made reveals how journalists and the mainstream media, which the film ultimately damns for its refusal to expose hypocrisy, have been complicit in keeping public figures in the closet.
And the tragic and horrific effect the closet has had on LGBT rights and public policy is made all the more clear.
The film features interviews with Jim McGreevey, Washington Blade editor Kevin Naff (who tells the story of how he met FOX News anchor Shepard Smith in a gay bar), Idaho statesman reporter Dan Popkey, former Luxembourg ambassador Jim Hormel, David Phillips, the D.C. IT technologist who tells his story about sleeping with Larry Craig in graphic detail, DC City Council member David Catania, former HRC director Elizabeth Birch, BlogActive blogger Mike Rogers, Gurley, Andrew Sullivan, congressman Barney Frank, Michelangelo Signorile, Hilary Rosen, former LCR exec. director Rich Tafel, Tammy Baldwin, Tony Kushner, and many more.
The film opens May 8.