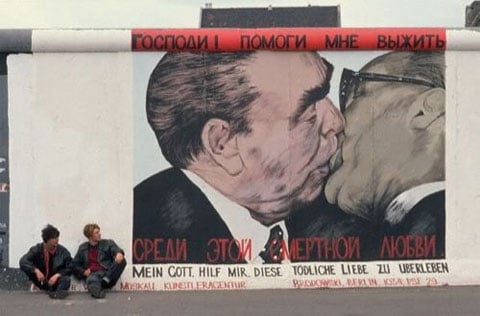 A section of the remaining Berlin Wall painted by graffiti artists in 1990 just months after the rest of it was officially opened is to be steam-erased and re-painted, and has the artist behind this kiss between Soviet leader Leonid Brezhnev and East German leader Erich Honecker furious:
"Dmitri Vrubel, who never agreed to his artwork being destroyed, is
not happy with this explanation. "I've got no problem with a
restoration," he told SPIEGEL ONLINE. 'But now it will be a new
picture. I can't simply repeat my first painting.' The Russian painter first heard about the renovation from a
newspaper report. After contacting officials in Berlin he was sent an
agreement, entitling him to expenses of €3,000 euros. 'But why €3,000
euros? Why not 30,000 or 300?' asked Vrubel, who has seen his image put
to commercial use adorning mugs, postcards and plates in Berlin. 'It is
being sold, but I have never seen a cent of the profits.' Alavi of the artists initiative confirms that problems persist today
with the marketing of the East Side Gallery. "Under German law, art
that is created in a public space does not enjoy copyright protection.
But he says his group may go to court in order to raise public
awareness of that problem."
(via slog)