The Deseret News/KSL-TV took a poll of Utahns regarding the punishment of Utah state senator Chris Buttars for his remarks in an interview comparing gays to radicalMuslims, calling them the "greatest threat to America" that he knows: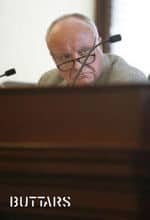 "Sixty-three percent of Utahns surveyed for the Deseret News/KSL-TV saidthey favored the action taken against the West Jordan Republican by SenatePresident Michael Waddoups, while 31 percent opposed it. The poll by Dan Jones & Associates of 400 Utahns statewide was conductedMarch 17 and 18, and has a margin of error of plus or minus 5 percent. Waddoups, R-Taylorsville, criticized the poll as an attack on a man heconsiders his best friend. He said the controversy ignited during the 2009Legislature was no longer an issue. 'All you're going to do is make it nasty again for someone who doesn'tdeserve it,' he said, describing Buttars as 'an intelligent man. He hasconvictions that he stands up for. He understands his job is to representhis people and he does it the best he can.'"
Buttars was removed from his chairmanship of the Senate Judiciary Committee and the Senate Judicial Confirmation Committee.
How 'bout a poll on whether or not Waddoups is as big a bigot as Buttars? Survey says…
Buttars remarks, re-posted, AFTER THE JUMP…