A wholly unsavory tale from far right Brit tabloid The Sun: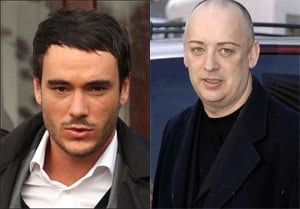 "[Former UK Big Brother contestant and Jade Goody widower] Jack [Tweed], 21, was stunned when he bumped into the Culture Club icon in the wash
block of the nick where they are both serving sentences. Shy Jack, whose Big Brother star wife Jade Goody died of cancer last month,
repeatedly met beefy George after being sent to cushy Edmunds Hill jail in
Suffolk. A pal said: 'Jack isn't exactly the most comfortable person when it comes to
getting attention from other men. As soon as he saw Boy George was standing
there naked having a wash he was gobsmacked. He grew up listening to George's records but never imagined the first time
he met him he would be stark naked in a prison shower.' Sources said Jack TWICE went to the showers only to find 1980s icon Boy
George, real name George O'Dowd, already in there wiping himself down. The THIRD time he went into the changing room where Boy George was
getting undressed for his morning wash.
A pal told The Sun: 'Jack knew what Boy George was in jail for and didn't want
to take any chances.'"