A new Quinnipiac University poll says 56% of Americans support the repeal of "Don't Ask, Don't Tell" while 37% oppose it: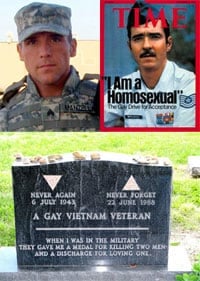 "The ban on openly gay men and women in the military should be repealed, American voters say
56 – 37 percent, including 50 – 43 percent among voters with family in the military, according to
a Quinnipiac University national poll released today. American voters who think being gay is an
individual's choice, 36 percent, are generally less supportive of gay rights than those who think
people are born gay, 42 percent. 
White Catholics say 64 – 29 percent that gays in the military should be allowed to come
out, while white evangelical Christians support "don't ask; don't tell" 53 – 40 percent. Voters
reject 58 – 35 percent, including 56 – 39 percent in military households, the argument that
allowing openly gay men and women to serve would be divisive, the independent Quinnipiac University survey of 2,041 registered voters nationwide finds."
However, the poll shows much different results regarding same-sex marriage results than an ABC / Washington Post poll released today as well. While the ABC/WaPo poll showed 49% in favor of marriage equality, the Quinnipiac poll show 38% in favor of marriage equality with 55% opposed. The Quinnipiac poll, however, does show 57% would be in support of civil unions for same-sex couples.
Quinnipiac University surveyed 2,041 registered voters nationwide
from April 21-27 with a margin of error of +/- 2.2 percentage points.
The Quinnipiac University Poll, directed by Douglas Schwartz, Ph.D., conducts public
opinion surveys in Pennsylvania, New York, New Jersey, Connecticut, Florida, Ohio and the
nation as a public service and for research.