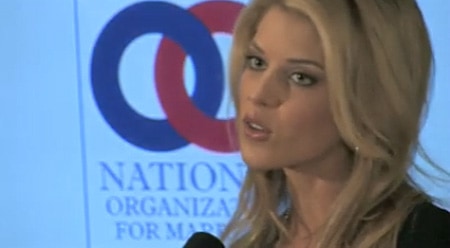 Miss California Carrie Prejean brought her opposite-marriage activism to the Press Club in Washington D.C. to launch the NOM ad I posted this morning. The Washington Blade's Rebecca Armendariz filed a report:
"Gallagher introduced Carrie and was very careful in choosing her words.She said that she understands that the 'attacks' on Miss Cali don'treflect the views of most gay people, and remained civil, and a littleemotional, about the need to preserve traditional marriage. I'm sureshe's also really proud of the soundbite she brought out for theoccasion – that Carrie 'chose the truth over the tiara.'"
Incidentally, the NOM ad has been removed from YouTube, due to a copyright claim by Mario Lavandeira, aka Perez Hilton.
Watch Prejean's appearance for NOM, AFTER THE JUMP…