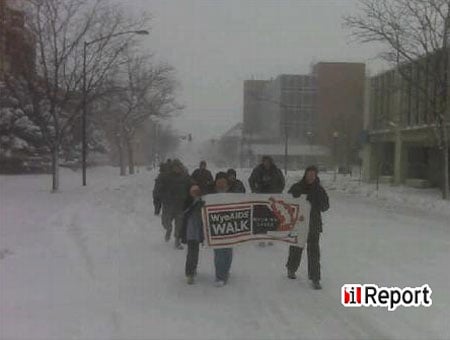 Towleroad reader Travis Kirchhefer writes in to us about Cheyenne, Wyoming's first AIDS Walk which took place yesterday amid wintry April weather.
Kirchhefer tells us: "Thanks to the dedication of my fellow Wyomingites, WyoAIDS Walk: Cheyenne persevered today despite freezing temperatures, closed roads, and blizzard conditions. This is most significant because, although WyoAIDS Walk has existed for 8 years, 2009 is the first year that our state's capital, Cheyenne, has held its own walk. 33 individuals braved the wintery weather to bring us donations, while 16 very committed individuals took to the streets and actually walked in support of Wyoming residents living with HIV/AIDS."
He elaborates a bit more in a CNN iReport: "All total, the Cheyenne community
raised $4,063 to add the over $100,000 raised to date by WyoAIDS Walk. 
Today's event was marked by a proclamation from Wyoming's Governor,
Dave Freudenthal, and official statements of support from the State's
two Senators Michael B. Enzy and Dr. John Barrasso."