The body of Spencer Vogt, a 19-year-old man from Katy, Texas who had been missing since March 27, was found last week after another 19-year-old man, believed to be Vogt's killer, was discovered in Georgia driving the victim's car. That man led police to Vogt's body.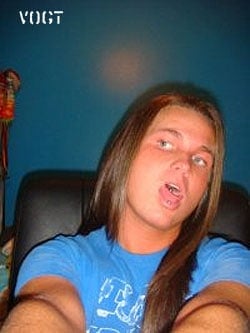 The Houston Chronicle reports: "Vogt had been missing for several days when his body was found late Wednesday wrapped in a tarp and dumped near Cullen at Fuqua. Investigatorssay a south Houston man stopped by police in Georgia led detectives toVogt's body. That man, Lee Carl Banks III, also 19, was driving Vogt'sMitsubishi Eclipse when he was spotted early Monday in Cairo, which islocated in the southwest part of Georgia. Georgia police officers also found a .38-caliber pistol inside the car, the weapon police believe was used to shoot Vogt. Authorities say the two men became acquainted in a gay chat room. FortBend County sheriff's detectives and Texas Rangers questioned Banks inGeorgia, where officials say that he admitted shooting Vogt severaltimes and told investigators where the body was located. Banks remains in custody in Georgia, where he was charged with unlawfully carrying a weapon and car theft. He could be brought back to Houston as early as next week to face a murder charge."
The motive for the murder remains under investigation.
Vogt attended Cinco Ranch High School. Said Chief Deputy Craig Brady: "It's my understanding that he was an outstanding student. He had a good reputation with the faculty and had numerous friends atschool."
A police news conference on the case, AFTER THE JUMP…