Just 65 votes separate the candidates in upstate New York in the race to fill Senator Kirsten Gillibrand's seat: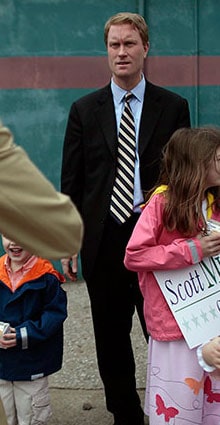 "With all precincts reporting, the Democrat, Scott Murphy, a 39-year-old venture capitalist, led 77,344 to 77,279 over his Republican rival, Assemblyman James N. Tedisco, 58, for the seat vacated by Senator Kirsten E. Gillibrand, a Democrat. The turnout was surprisingly strong for a special election.But 10,055 absentee ballots were issued — and 5,907 received so far, state election officials said — meaning the election cannot be decided until the paper ballots are counted. Moreover, it is likely that the count may not begin until at least April 6, said Bob Brehm, a spokesman for the State Board of Elections."
The race is being seen as a referendum on Obama's stimulus package as Murphy, who is from Missouri and was an unknown before February, aligned himself closely with Obama.
DNC Chair Tim Kaine released a statement last night: "Scott Murphy embraced President Obama's message of change and his plans to fix our economy and create jobs, and as a result  he stormed from more than 20 points down to winning a majority of votes cast tonight.  Scott's performance tonight in an overwhelmingly Republican district, where Republicans enjoy a registration advantage over Democrats of more than 70,000, represents a repudiation of the failed politics and policies that Republicans continue to embrace.  We are confident that when all the ballots are counted, Scott will expand his lead and become an ally to President Obama in Congress who will help the President create jobs and turn our economy around."
Tedisco has already gone to court.
ON LGBT issues, Murphy supports civil unions over same-sex marriage, the Weekly Standard reports. Also: "While a student at Harvard, Murphy co-signed an editorial in 1989 that argued that ROTC shouldn't be allowed on campus because the military was racist, sexist, anti-gay, and the 'values enforced by the military — submission to authority, unquestioning obedience, and a hierarchy of power — are contrary to the University's values of independence, thoughtful inquiry, and equality for all.'Yesterday, Murphy said of his 1989 editorial: 'That was, I said that at the time, and I have changed my opinion, in part because the military's moved its position" on gays in the military toward Clinton's 'don't ask, don't tell' policy.' That said, he most recently answered that 'no', he doesn't have a position on gays in the military.
Murphy's campaign ad, AFTER THE JUMP…
Upstate New York House Race Is Too Close to Call [nyt]
(image nyt)