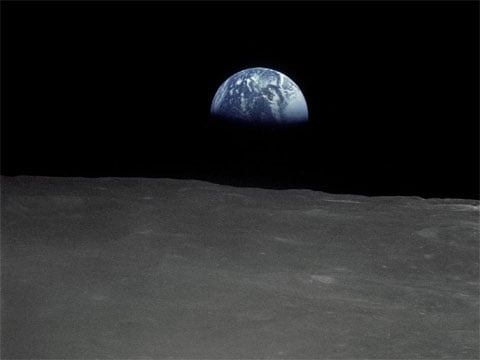 It's Earth Day today. One billion people are expected to participate.
NASA: "The Apollo 16 crew captured this Earthrise with a handheld Hasselbladcamera during the second revolution of the moon. Identifiable cratersseen on the moon include Saha, Wyld and Saenger. Much of the terrainseen here is never visible from the Earth, as the command module waspassing onto what is known as the 'dark side' of the moon. Apollo 16 launched on April 16, 1972 and landed on the moon on April20. The mission was commanded by John Young; Thomas K. Mattingly II wasthe command module pilot and Charles M. Duke, Jr. served as the lunarmodule pilot."

Are we alone?


Astronomers discover Earth-like planet.


Obama pushes ambitious climate agenda…


Shoot the planet!


Six environmentally-friendly faces who have some explaining to do.


Globes: the literal interpretation.
Some gorgeous views of Earth from the International Space Station, a tour of the Cryosphere, and a video of two space shuttles on two launch pads for the final time, AFTER THE JUMP…